Beverly Hills Porcelain Veneers Specialist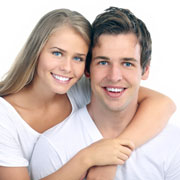 Good dental health requires a team effort. At-home dental hygiene with twice-daily brushing and daily flossing will keep plaque and bacteria under control while regular checkups with our dentist can monitor your teeth and gums for early signs of trouble. A beautiful smile can also be a team effort. You may take a proactive approach towards maintaining clean, healthy teeth, which is great way to keep your smile attractive. However, our Beverly Hills porcelain veneers specialist can provide you with other treatments and procedures that can turn back the hands of time and give you a glowing smile of which you can be proud.


Our Beverly Hills porcelain veneers specialist recommends porcelain veneers to patients who suffer from severely stained teeth or who have teeth that are chipped, cracked, worn or misaligned. If you are a candidate for porcelain veneers, a small amount of enamel will be trimmed from your teeth to make room for your veneers. The dental lab will use dental impressions to craft your veneers. Our dentist will place temporary veneers while you wait for your permanent veneers.


Porcelain veneers offer their wearers many advantages. Porcelain is extremely strong and durable. Because it is highly stain resistant, you can continue to enjoy your favorite meals and drinks while continuing to maintain a white, healthy-looking smile. They are considered a permanent restoration, and they require no extra care: Simply brush and floss just like you have always done. They can be used to correct numerous aesthetic issues, which makes them a good choice for many people and a frequent treatment option on their own or as a part of a smile makeover.


When your dental veneers are ready, you will return to our office, and our Beverly Hills porcelain veneers specialist will make any necessary final adjustments before bonding them to your teeth. You may need to return for a final visit to check your bite and make further adjustments. After that, you will simply need to return for regular dental exams and professional cleanings.


If you are ready to learn more, contact our office to schedule your consultation with our Beverly Hills porcelain veneers specialist.

Back to Articles